Giuliano Amato pinned the mystery Itavia Flight 870 crash on a NATO attempt to assassinate Libya's Muammar Gaddafi
Former two-time Italian Prime Minister Giuliano Amato has claimed in a new interview that the "Ustica massacre" incident back in 1980 was caused by a botched French and US attempt to shoot down a plane which they believed was carrying Libya's late leader.
The exact cause of the deadly incident with the Itavia flight 870 from Bologna to Sicily on June 27, 1980, is still a mystery and the perpetrators remain unidentified. The McDonnell Douglas DC-9 crashed between the islands of Ponza and Ustica, killing all 81 people on board.
Some alleged a terrorist bombing, but critics point at the lack of evidence of explosive residue in the recovered debris. Another theory claims the jet was downed accidentally, during an alleged dogfight between Libyan, French and US and fighter jets during a NATO assassination attempt on an "important" Libyan politician.
"The most credible version is that of responsibility of the French air force, in complicity with the Americans and who participated in a war in the skies that evening of June 27," Amato claimed in an explosive interview with la Repubblica published on Saturday.
"A plan had been launched to hit the plane on which Gaddafi was flying," Amato claimed, insisting that NATO sought to "simulate an exercise, with many planes in action, during which a missile was supposed to be fired."
Gaddafi was allegedly supposed to return from a meeting in Yugoslavia aboard a military plane through the same airspace, but according to Amato, Italy had warned him and the Libyan leader changed his plans. NATO officials denied any military activity in the area on the night of the tragedy. 
The Elysee Palace refused to comment on Amato's remarks on Saturday. Italy's current PM Giorgia Meloni said predecessor's claims "deserve attention" but urged him to share evidence if he has any.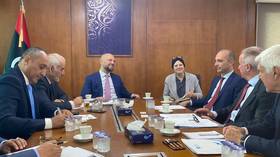 Amato admitted in the interview that he has no hard proof, but dared French President Emmanuel Macron to either confirm or refute the allegations, in order to "remove the shame that weighs on France."
The allegations of a possible French involvement are not new, as former Italian President and PM at the time of the incident, Francesco Cossiga, had also blamed the crash on a French missile and said that Italian spies had indeed tipped off Gaddafi about an assassination attempt.
Muammar Gaddafi was eventually brutally murdered by Western-backed rebel fighters amid a NATO bombing campaign, conducted under the pretext of a no-fly zone during Libya's 2011 civil war.
You can share this story on social media: